One-sided Hair Loss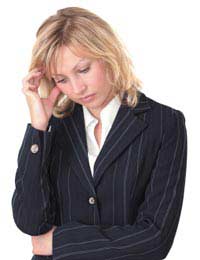 Is it possible to lose the hair on just one side of your head? It sounds strange, but the answer is yes. Sometimes this is just an unusual variation on Alopecia Areata, or patchy hair loss, but often the effect is more pronounced and it's clear that something else is going on. In fact, one-sided hair loss can be a symptom of serious medical problems, so it's important to understand the risks and Talk To Your Doctor at the earliest opportunity.
Patterns of One-sided Hair Loss
Most people with one-sided hair loss find that it doesn't happen all at once. Hair usually thins gradually – you may notice more hair comes out when brushing one side than the other. If you suspect one-sided hair loss, place your fingers just above your ears and push them upwards. This should enable you to feel whether or not your hair volume is the same on both sides.
People with this condition are far more likely to lose hair on the right side of the head than on the left. This can go along with a loss of body hair on the right-hand side. Sometimes people report that they start to lose body hair on their legs and the pattern travels upwards until it starts affecting their heads. It's common for eyebrow hair to be affected, too.
What Causes One-sided Hair Loss?
One-sided hair loss is usually associated with changes in the texture of the hair. Often just as much hair emerges from follicles as usual, but it is shed sooner, or it breaks off earlier, meaning it can't grow as long as the hair on the other side. Hairs may feel flat and wiry or may be pale and very fine, like baby hair.
All of these characteristics demonstrate that the follicles producing the hair are not getting adequate nutrition. But why should this happen on just one side of the head? There are several possible explanations:
A circulatory disorder – sometimes blood doesn't travel around the body as evenly as it should. Most conditions that cause this are not serious, but as it can be a sign of blood clots in your veins, it's best to be careful. Circulatory disorders can also be an early symptom of some chronic illnesses.
A head injury – if you have ever fallen and hit your head, scar tissue can develop in the scalp that disrupts the normal pattern of blood flow to hair follicles. This is unlikely to cause other health problems. Sometimes scar tissue can be broken up by massage – ask your doctor for advice.
A stroke – most strokes, which occur when there is bleeding inside the brain, are relatively minor – you might not even realise you've had one, though a scan can reveal it. They can interfere with the normal functioning of hormones that help hair follicles take up nutrients. Because minor strokes place you at increased risk of a major one, it's important to seek medical advice straight away.
A tumour – growths in the brain can exert pressure on the scalp and inhibit normal blood flow. Don't panic – if you do have a tumour, it may well be benign. Your doctor can advise you on the best course of action.
Coping with One-sided Hair Loss
One-sided hair loss can look particularly odd and can badly damage your confidence. You may just want to shave all your hair off until it looks normal again, but if that doesn't feel right, there are other options.
Toupées and Hair Patches, supported by glue or woven into the healthy hair in the middle of your head, can be matched to your hair colour and make you look like you used to. Alternatively, you can wear a wig over the whole of your head. Remember that if you choose this option you will need to take extra care of your healthy hair.
Because most causes of one-sided hair loss are treatable, the chances are that a visit to your doctor can set you on the road to a full recovery.
Partial Hair Loss
You can find more information and advice about
Partial Hair Loss
in our Hair Loss Basics section of this site.
You might also like...
I am having a problem with my left side as there is little or no sensation in just a small part do i need to worry about that or its normal. Age 22.
Saif Ali
- 29-Jun-17 @ 1:06 AM
hello.my entire right side of my head has thinner hair than the left if you place a pencil from between my eyes and go straight back to the top of my head and then straight down the back of my head, my right side is thinner, much thinner am i the only one? i have noticed this for many years, just getting worse over time, seems like a slow thing going on driving me crazy, i am 46 and i dont know what to do.i even had a brain MRI and a carotid ultrasound just to be sure all is ok, all was fine there help!
chris
- 4-May-17 @ 2:29 PM
I've been on Femera for 6 yrs, now I'm experiencing hair loss will it grow back when I stop?
Angie
- 12-Apr-17 @ 4:14 AM
Hi, I am 26year oldI don't have any problem in my body but only little patch on my head I lost hair right side so it's normal thing? Manisha
Money
- 27-Dec-16 @ 9:32 PM
@jamsie. Could it be something simple, like you always lie one side atnight times? And have you tried changing your parting? That worked for me!
Kittentoes
- 26-Sep-14 @ 9:59 AM
I have always had less hair on the right side of my head. I am now 28 and this is becoming more of a problem. I am thinning more and more. When I wash my hair twice a week I always lose a considerable amount of hair. I don't think this is normal... Please help.
jamsie
- 25-Sep-14 @ 9:02 AM
HI, I am 23 years male, i am suffering from one sided hair loss, i.e i am loosing hair from one side of my body. scalp on right side,right arm,right leg etc. Please help me... what is this disease? is it cure able?
Malik
- 6-Oct-11 @ 1:33 PM