What Is Kerion Celsi?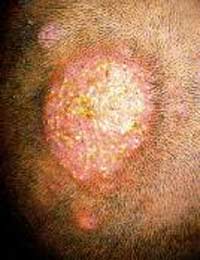 One of the reasons why it's important to take action on hair loss straight away is that some causes, left untreated, can lead to much more serious long-term problems. Untreated Ringworm Infections can lead to the development of kerion celsi, lesions which are difficult to deal with. These can, in turn, lead to scarring and permanent bald patches. Knowing how to recognise kerion celsi can help you to get the urgent help you need.
Ringworm and Kerion Celsi
Ringworm is a relatively common condition, a fungal disease often acquired from pets, but kerion celsi are relatively rare. This means that doctors may not immediately realise what they are. If you develop lesions on your scalp, your chin or the back of your neck, it is important to tell your doctor about any other symptoms you have noticed in the same areas over the last few weeks.
Although it can be painful and distressing and can lead to Hair Loss, ringworm is not in itself a dangerous condition and it doesn't always lead to the development of kerion celsi. When these do develop, however, it's important to seek urgent medical attention because kerion celsi often become subject to secondary infections – sometimes multiple ones – and they won't heal on their own.
Diagnosing Kerion Celsi
Kerion celsi can affect individuals of any age or sex but are especially common in people who come into close contact with animals. Look out for the circular red marks associated with ringworm on the affected person and on any furry pets.
Kerions usually start out as crusty patches of skin on the scalp, chin or neck which then become soft at the centre. They often exude a strong, unpleasant smell. Over time, the centre of a kerion gives way and an abscess is formed. On the scalp these are usually round in shape. Elsewhere, muscle movement can draw them out into elongated lesions. Hair often falls out in the immediate surrounding area as well as on the kerion itself.
Kerions can become quite deep and, in some cases, can present a serious health risk because of their proximity to the brain.
Managing Kerion Celsi
If you suspect that you may have developed kerion celsi, see a doctor as soon as possible, though you may need to see a dermatologist for a definite diagnosis. In the meantime, it is important that you manage your kerions carefully. You can't get rid of them but, with good care, you may be able to prevent them from getting worse.
The most important thing is to keep your kerions clean. Where possible they should be kept covered with gauze bandages, but this is not always practicable because of their location and the fact that surrounding tissue may also be damaged. Ask your pharmacist about Allevyn adhesive patches which can sometimes help where bandages can't.
Your should wash your kerions morning and night with plain water or saline solution. Lukewarm water is usually most comfortable but some people find that cold water, after the initial shock, numbs the pain. Be careful not to poke, scratch or pick at your kerions. Ibuprofen is usually the most effective choice of painkiller as it can also reduce the swelling around them.
Treating Kerion Celsi
Once you have been formally diagnosed with kerion celsi you will usually be given an antifungal agent called griseofulvin. This medicine can take some time to act and a prolonged course of treatment will usually be necessary, but it is the best choice because it will not react with the antibiotics you are also likely to need.
Once kerions are open to the air they can easily be targeted by bacteria. This means that you will usually also need to take antibacterial drugs before they will start to heal. These may upset your general health, causing side effects like stomach aches. Tell your doctor if you have problems as alternatives may be available, but don't stop taking your medicine without your doctor's permission. It is essential to finish the course in order to get rid of the infections completely.
Because kerions often attract multiple types of bacteria and these may not all respond to the same antibiotics, a series of different treatments may be necessary before they will heal. Try to be patient with this. The sooner you get help and the better you stick to your treatment plan, the sooner your pain will go away and the less likely you are to suffer Permanent Hair Loss.
You might also like...