Pollution and Hair Loss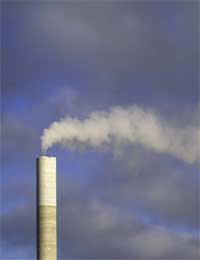 An increasing number of studies are showing that some kinds of hair loss can be caused by atmospheric pollution. How can you tell if this is a factor in your hair loss, and what can you do to protect yourself? The good news is that while we may have limited control over the environments we live in, there are some things we can do to reduce the damage pollutants cause.
Environmental Factors
You might think that living in a busy city would be bad for your hair – and you'd be right – but there can be risks no matter where you go. While many known toxins affecting the hair are controlled substances in the UK, you may find yourself exposed to greater risks when you travel abroad, especially in heavily industrialised areas.
In cities, the number one factor affecting the hair is air pollution from traffic fumes. This is thought to interfere with the formation of the proteins that go into making hair, so that the hair is weaker and more likely to fall out. Studies also suggest that it can trigger the early onset of classic Male Pattern Baldness.
In the countryside, links have been made between hair loss and exposure to organophosphate compounds used to control pests. This is a particularly significant problem for farmers who work with such compounds directly, but it may also affect other people living near fields where they are used.
Pollution at Home
In the home, there are two major types of pollution which can trigger hair loss:
Smoke
and dust. You don't have to be a smoker yourself to face a greater risk of hair loss if somebody smokes frequently in your home. Smoke from open fires can also represent a risk if it is not sufficiently well channelled out of the house. The carcinogens in smoke can damage hair follicles and the carbon emitted from cigarettes can damage existing hair.
Dust is a problem because the mites which live off it commonly trigger allergies on the scalp. These may be so mild that you'll hardly notice any itching, but they can still cause hair to fall out. You can treat the problem with an anti-dandruff shampoo, but cleaning and hoovering more frequently will often have a more dramatic effect.
In some cases, hair loss can be triggered by pollutant chemicals affecting food. Some people find that switching to eating organic produce slows their hair loss, but no conclusive studies have yet been done in this area (for more information about nutrition and hair, read our article Diet And Hair Loss).
Protecting Against Pollution
If you cannot escape from pollutants in your environment, you can still do quite a bit to protect your hair against them. If you frequently have to travel through polluted areas, wear a hat or a scarf to cover your hair and help keep it clean. Wash it frequently but make sure it doesn't dry out as a result – using a good conditioner to help maintain its natural oils will help to prevent pollutants from making contact with it at the roots.
Sudden hair loss is often an early symptom of more severe environmental pollution. If this happens to you and you discover it has also happened to your neighbours, contact your local council to find out if there could be a problem in your area. Doing this promptly can help you to avoid other health problems.
Healthy Hair Care Products
When it comes to hair care, what you put on your locks can have a negative effect. Find out more in our article
General Hair Care
.
You might also like...
IT HAS BEEN MY EXPERIENCE WITH THE CLIENTS I TREATED, THAT POLLUTION HAS DIRECT AND INDIRECT RELATION WITH HAIR. THANKS FOR THE RESEARCHERS.
GOWDA
- 29-Apr-13 @ 6:36 AM