Stress and Hair Loss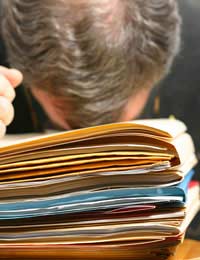 Stress has been closely associated with temporary hair loss for a few years now. As more and more individuals report hair loss as a symptom while going through periods of high stress (such as divorce, lost jobs, deaths in the family, and even childbirth) more doctors are looking into the medical connection of these two conditions.
How Stress Effects Hair Growth Patterns
Although some people may notice
Hair Loss
during extreme periods of stress, it is more likely that the hair loss will first be noticed after the stressful period has past. This is due to the effects of stress on the
Hair Growth Pattern
. When an individual experiences intense stress chemicals in the body will transmit signals to the hair follicles, which causes them to enter a resting phase. During this phase there is no new hair growth. Over the next few months hair will be shed normally but new growth will not occur to take its place. This uneven pattern can cause hair to appear thinner and eventually result in hair loss.
Once the stressful episode has ended, the hair follicles will stay in this resting period for a period of time and new hair growth will not start for three to six months. This can lead to further stress in the individual as they notice more and more hair falling out and no new hair growing to take its place. If the stress from this condition is too intense, the cycle can be prolonged and will result in further hair loss.
Will the Hair Loss Be Permanent?
Stress induced hair loss is usually temporary in nature. However, if the stress event is very prolonged or if the hair loss causes further stress, the condition could turn permanent. On average the hair loss will continue until the cause of the stress is eliminated for good. Once the cause is eliminated, the hair growth pattern will return to normal within six months and new hair growth will be visible.
Curbing the Stress and Stopping the Hair Loss
The best way to deal with stress-induced hair loss is to learn how to manage your stress levels before they affect your hair growth patterns. For regular day-to-day stressors, such as job worries, martial spats, and child rearing problems, a regime 30 minutes of relaxation per day is a great antidote to hair loss. Find an activity that you really enjoy, such as reading, exercising, painting, chatting with friends, and indulge in the activity uninterrupted for at least 30 minutes.
If you can't fit in a daily hobby break, at least use your shower or bathing time to sneak in a little relaxation. While showering let your mind wander to pleasant thoughts and spend five minutes clearing your head and relaxing your body.
For bigger stressors, like divorce, money problems, deaths in the family, or job loses, you may need to seek help in dealing with your worries. Support groups, counsellors, and therapists are great resources for dealing with overwhelming stress. You can also schedule an appointment with your doctor if you feel the stress is too great to handle on your own.
Once you have learned ways to control stress and made them a habit in your daily life you should be free from the effects of stress induced hair loss.
Relationship stress
Losing your hair can have a negative impact on your relationship, causing stress for both partners. Find out what steps you can take to improve your relationship in our article
Hair Loss And Relationship Stress
.
You might also like...
I have lost my eye lashes and my eyebrows are thinning. Also I have noticed that the hair on my arms have almost gone. I am under a lot of stress as my husband has terminal lung cancer. I also have parental control of his 3 boys 9 & 8 yr old twins. I am 51. Is this stress related please and will I lose any more hair please.
debra
- 22-Jun-13 @ 8:35 PM