Types of Alopecia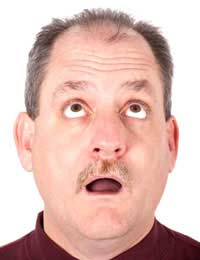 Alopecia is a medical term used to describe the loss of hair. There are many different types of alopecia and each type has a different affect on the body. However, most types of alopecia share the same cause – an autoimmune reaction in the body. In this disease the immune system mistakenly attacks the hair follicles and caused the interruption of hair growth. Depending on the type of alopecia experienced, this hair loss may be temporary or permanent. Other causes of alopecia include injury, disease, chemotherapy treatment, and stress on the root of the hair.
Most Common Types of Alopecia
The most common type of alopecia hair loss is androgenetic alopecia, also known as
Male Pattern Baldness
. This type of hair loss is
Hereditary
, affects both males and females, and is first noticed as a visible thinning of the hair at the front or crown. This type of hair loss is almost always permanent.
The second most common type of alopecia is traction alopecia. This hair loss condition is caused by excessive pulling or stressing of the hair strand at the root. This type of alopecia is usually seen in women who prefer tightly done hairstyles such as braiding. The hair loss pattern associated with his type of alopecia depends on the direction of the braid or hairstyle and is most noticed at the tightest point of the hairstyle. Traction alopecia can affect the hair follicle after a prolonged period of time and can lead to permanent hair loss.
Two temporary types of hair loss, anagen effluvium and telogen effluvium, are also common types of alopecia. Anagen effluvium is hair loss that is caused by the chemotherapy or radiation therapy that is used to treat cancer. In this type of alopecia the lost hair will start to grow back within six months of the end of treatment.
Telogen effluvium is characterised by a general thinning of the hair. This hair loss can have many causes and results in the shedding of excessive amounts of hair. Once the cause is eliminated, hair loss patterns return to normal and new hair growth continues unchanged.
Other Types of Alopecia
There are six other main types of alopecia that can lead to hair loss. Alopecia areata is a condition that leads to hair loss anywhere on the body. This hair loss is usually characterised by its patchy appearance. Alopecia totalis is characterised by a total loss of hair on the scalp. Alopecia universalis is the term used to describe the complete loss of all hair on the entire body. Alopecia barbae, a condition that only affects men, is characterised by a loss of facial hair. Alopecia mucinosa is hair loss that results in scaly patches on the skin. And finally, scarring alopecia is a type of alopecia that leaves scars on the areas of the body where the hair loss has occurred.
Seeking Treatment
Treatment can be an option for certain types of alopecia, such as androgenetic and telogen. If you are experiencing the symptoms of any type of alopecia, schedule an appointment with your doctor to determine the exact type you are suffering from, the condition that has caused it, and the
Types Of Treatment
that are available for your hair loss.
You might also like...
@Bren. The menopause can have an effect on your hair and hair loss. Take a look at our article on
hair loss and the menopause
for more information.
HairLossExpert
- 10-Sep-14 @ 12:31 PM
I am a 58yr old white female, post menopausal.I have started noticing that I'm losing hair on my hairline at my forehead and around my ears.There is no hair "sideburns" now in front of my ears and judging from a scar I haveon my forehead my hairline has receded at least 1/3 in.I have no skin conditions, not using any new products and no more stress than anyone else has to deal with.I work full time and I like my job.I'm not aware of any health issues other than menopause has somehow added about 35 extra pounds.Any ideas? Thank you.
Bren
- 8-Sep-14 @ 1:39 AM
I have been diagnosed with alopecia and have noticed regrowth of hair on my face and head. Althlugh it is little white hairs that are starting to get more texture and strength to them I am noticing hair loss on my arms and stomach at the same time. Is this normal during alopecia or is there some other underlying affect. Please feel free to ask any questions.
josh
- 6-Sep-14 @ 12:07 AM