Beard Growth Disorders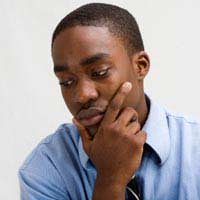 Loss of hair on the top of your head can be traumatic, but a lesser known problem that afflicts a lot of men is beard growth trouble. Whether you're struggling to grow one for the first time or the beard you've had for years is falling out, this can be difficult to deal with. Some people find that their otherwise healthy beards have bald patches. Why does this happen and what can you do about it?
Growing your First Beard
If you are having difficulty growing your first beard, the good news is that your problems are likely to be temporary. Although we tend to hear more about women's hormones, men undergo a lot of hormonal changes, too, and some of those associated with growing up may not reach their peak until around the age of 30. Since these hormones influence beard growth, a beard can take a long time to come in fully.
Because individual hair follicles mature at different rates, early beards are often patchy. If you still want to grow one, it's best to choose a style that can work around this. You may also find that the hairs in your beard grow to different lengths (this will usually even out as you get older), so a short beard is usually the best option, enabling you to keep it more even.
Occasionally, genetic influences mean that otherwise healthy men never develop much facial hair at all. It's worth looking at male relatives and asking them about their experiences if you are worried.
Beard Hair Loss
The most common reason for the loss of hair from a healthy beard is a form of
Alopecia
. This often manifests in patches rather than an overall thinning of the beard. It can happen even if you are not suffering from any loss of hair on the scalp. This can sometimes be treated with steroid injections, so
Ask Your GP For Advice
. You may need a referral to a dermatologist.
Loss of beard hair is commonly caused by Stress (including fatigue from lack of sleep) or by allergic reactions. Some men find that cutting our dairy products from their diet helps. If you experience sudden beard loss, it's a good idea to visit a dentist as tooth infections are a common trigger.
In many men, beards get thinner after about the age of 55. This is because, despite higher hormone levels, the follicles themselves are getting worn out. Taking extra care with Diet and skin care can help to slow this process, but it's also worth thinking about restyling your beard so it looks good even with less hair.
Enhancing Beard Growth
If you want to speed up the growth of your beard or thicken the hair in sparse patches, the best thing you can do is to eat a well balanced diet and keep skin in the area clean. There are a lot of myths about beard growth – for instance, you may have heard that shaving more frequently will make the hair grow faster, but studies indicate this is not the case.
There is some evidence that products designed to stimulate head hair growth, notably finasteride and rogaine, can also help with beard growth. You shouldn't use these to help with a first beard, however, as they can interfere with natural hormone changes and may actually delay independent beard growth. They can also cause health complications, especially in younger people, so consult your GP before you try them.
Hormonal Imbalances
Occasionally, beard growth problems are caused by hormonal imbalances. These can occur at any stage in life and they are particularly common in men with
Diabetes
,
Thyroid Problems
or prostate problems. In these instances, your doctor can provide you with hormone injections that will help your beard grow normally and may also improve your health.
You might also like...