Hair Loss in Adolescence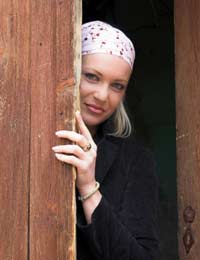 Adolescence is a difficult time for anybody, a time when it's particularly important to feel confident and have a good self-image. Unfortunately, it's also the time when certain types of hair loss conditions can kick in. Losing hair at this age can lead to social exclusion and intense stress. It can also be difficult to treat because hormone-based remedies can't safely be used when the body is still developing. So what can be done to make it easier?
Male Pattern Baldness
Adolescent hair loss can occur for a variety of reasons but perhaps the most devastating is
Male Pattern Baldness
. Everyone with this condition begins to lose hair from the onset of puberty but in some people it happens more quickly than it does for others. It can be particularly hard for young people because not only do they have to face the fact that their hair won't grow back, they have to deal with the fact that they'll be visibly different from their peer group for many years to come.
Because the particular kind of thinning involved in male pattern baldness is associated with Ageing, it can make teenagers look much older than their peers, which is often socially awkward. Rather than holding on to thinning hair in this situation it is often better to shave it off one the problem becomes apparent – a shaved head looks much less unusual. Parents can discreetly explain the situation to teachers if they anticipate that this may break school rules.
Stress-Related Hair Loss
Because the hormonal balance of the body changes so much during puberty, young people are particularly vulnerable to
Stress-Related Hair Loss
, with
Alopecia Areata
common among girls. They also have a lot of stress to contend with due to pressures at school and the difficulties of shifting family relationships. The good thing about this form of hair loss is that it is usually temporary but that doesn't make it any less upsetting at the time.
Unless it is very severe, hair loss of this type is usually best dealt with by careful styling. If some patches of hair are still strong and well-rooted in the scalp, fashionable Hair Extensions can cover thin patches or bald spots without being an obvious disguise. Efforts should be made to reduce general stress levels where possible, to alleviate the problem.
Medical Hair Loss
Hair loss triggered by chemotherapy or other medication is proportionally more common among adolescents than older people. This can be a short or long-term problem but it's especially difficult to deal with if the sufferer is also struggling with major health problems. Time spent in hospital can weaken relationships with friends and make it harder to find real support even if people are generally sympathetic. Hair loss can worsen the sense of isolation and difference caused by illness.
Despite the host of other problems that need to be dealt with in this situation, it's important not to neglect hair loss. If friends and relatives want to offer general support, suggest they do so by buying clothes chosen by the young person in question, to help boost self-image. Be open-minded about the young person's choices when it comes to Wigs And Other Head Coverings.
How Families Can Help
Watching a teenager losing their hair can be distressing for parents, too. It's important for parents not to project their own stress onto a young person who must find their own way of dealing with it. Too much fuss made by parents can be embarrassing and it can also make it harder to set the problem aside and enjoy life.
Families can help by making it clear that they're ready to be supportive, then standing back and giving the affected person space. Teenagers need to develop independent ways of coping and integrate hair loss issues into their own style. It is, however, important to monitor their approach to it as young people can be particularly vulnerable to quacks selling dubious remedies over the internet. Apart from the fact they're unlikely to work, these may actually be dangerous.
One other area where young people facing hair loss issues often need help is with bullying. Parents should check school bullying policies and speak to teachers if they have any concerns – even teachers themselves can sometimes make hurtful jokes if they don't realise the issue is serious. Just don't let hair loss become the centre of your family life. The best way to deal with it is to be aware of all the better things life still has to offer.
Help With Self-Esteem
Discover more self-esteem tips when dealing with hair loss in our article
Bald And Proud
.
You might also like...