Hair Loss and Cancer Risk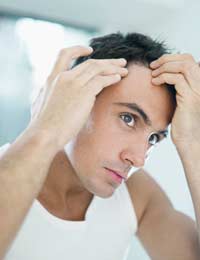 Along with the immediate distress and difficulties they cause, certain types of hair loss have now been linked to an increase in cancer risk. Fortunately, most common cancers are treatable, often with minimal intrusion, if caught in the early stages. This means that it's worth being aware of how your risks may have changed so you can monitor your own body for signs of trouble, getting medical help as necessary.
Hair Loss and Prostate Cancer
A recent study has shown that
Male Pattern Baldness
that begins during adolescence is linked to a doubling of the risk of prostate cancer. This doesn't mean the hair loss causes the cancer, rather that both are likely to have a common cause. The culprit is suspected to be an increase in the rate of conversion of testosterone to hormones called androgens.
Androgens can be blocked by finasteride, which is why finasteride is often used to treat hair loss. However, because this interferes with the body's Hormonal Development, it's a bad idea for young people to take it. Instead, people with concerns about this form of hair loss and what it could mean should talk to their doctors to find out if it might be appropriate for them to start using finasteride in their 20s or 30s.
It is not believed that male pattern baldness later in life indicates any increased prostate cancer risk. It is rare to develop prostate cancer under the age of 50 and you may be able to decrease your risk by eating a diet low in dairy produce such as milk and cheese. The most noticeable early symptom of prostate cancer is difficulty emptying the bladder.
Hair Loss and Endometrial Cancer
Hair thinning or a receding hairline in women, especially in life, can be an indicator of polycystic ovary syndrome. This is a condition in which the female body produces unusually high levels of androgens. Like prostate cancer in men, endometrial cancer is thought to be triggered by an excess of androgens, so women with polycystic ovary syndrome are more likely to develop this condition.
Endometrial cancer, or cancer of the lining of the womb, rarely develops before the menopause, but women whose hair loss indicates elevated risk should watch out for possible symptoms throughout life. Heavy or irregular menstruation, or any vaginal bleeding after menopause, should be discussed with a doctor, as should abdominal pain. Endometrial cancer can be treated very effectively if caught early.
Hair Loss and Immune System Issues
Hair loss can be a symptom of a number of different autoimmune diseases and these, in turn, can increase the risk of developing certain cancers. Exactly what your personal risks are will depend on a number of factors so is something you can discuss with your doctor. If your hair starts thinning or falling out unexpectedly and you feel tired or weak at the same time,
Ask Your Doctor
to investigate whether you may have immune system issues.
Most immune system disorders increase the risk of thyroid cancer, especially in women. You can counter this to an extent by avoiding soya-based foods (which block natural thyroid hormones) and by eating a diet high in iodine. Foods such as seaweed, sea fish, shellfish and eggs are good choices. You can lower your cancer risk in general by eating a Healthy Diet with plenty of fresh vegetables.
Anti Hair Loss Treatments and Cancer Risk
Because hair loss treatments often work by altering the hormonal balance of the body, they can potentially increase the risk of some cancers triggered by hormonal imbalances. This is true even when they are being used to correct naturally occurring imbalances and even when they may lower the risk of other cancers. It's one of the reasons why it's always best to discuss hair loss treatment with your doctor rather than just buying an over-the-counter product.
Finasteride is particularly problematic because of the way it tips the balance between androgens and oestrogen. It should never be used by women, children or adolescents because even low doses in these groups have been linked to a significant increase in the risk of developing breast cancer. Although it is usually safe for use in men, it is possible for men to develop breast cancer, too, and finasteride has been linked to an increased risk of this.
To be on the safe side, men using finasteride should look out for lumps on their chests around the nipple area. These can feel like had patches just under the skin. If you find a lump like this, tell your doctor straight away. Prompt action can make all the difference.
Cancer Treatments
Find out how some cancer treatments can cause hair loss in our articles
Radiation And Hair Loss
and
Cancer And Hair Loss
on this site.
You might also like...