Could Water Change Cause My Hair to Fall Out?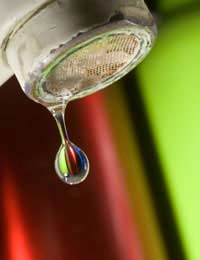 Q.
I moved house about a year ago and switched from city water to well water. At the same time I started a medication Prednisone for Myasthenia Gravis. Since then I started to notice hair loss. I used to have very thick hair and in 1 year it is extremely thin.
My hair always fell out a little bit nothing unusual, but in the past year it just seems to fall out in clumps. What could be causing this, the medication or the well water? What should I do to stop this before I become bald?
(Mrs Angela Sanders, 7 December 2008)

A.
The well water, the prednisone, or even a combination of both could cause the hair thinning that you are noticing. If you started the medication at the same time that you started consuming and washing in the well water, the real culprit may be hard to track down. However, if you noticed the thinning after one change that option could be the most likely cause of your hair thinning.
Can Prednisone Cause Hair Loss?
Many medications and medical conditions can lead to hair loss, especially those that affect the body's immune system. Prednisone, or any type of anti-inflammatory medication, can affect the immune system leading to side effects such as hair loss. Prednisone hair loss is more likely to occur in men and more apt to appear at higher doses and with long-term use. If you believe that the prednisone may be causing your unwanted hair loss you need to schedule an appointment with your doctor for fuller evaluation of your condition and treatment options.
Can Well Water Cause Hair Loss?
Well water can sometimes contain a higher concentration of heavy metals or contaminants than city water or bottled water. Common metals or contaminants that can cause hair thinning include selenium, mercury, lead, and copper. These contaminants can leak into the system from ground run-off (such as with selenium), can build up in the system through old, faulty pipes (such as with lead), or can just be naturally occurring in high amounts (such as with mercury or copper). When you wash in, or ingest, this water your body can absorb too much of the material that adversely affect your system.
The best way to rule out these contaminants as the cause of your hair thinning is to see a doctor. He or she can run tests that evaluate your body's metal levels and suggests ways to control the side effects of the levels. If the well water is determined to be the cause of your hair loss there is a way to improve your water and remove the contaminants. A home water filtration system will purify your water and make it safer for washing and consuming.
Further Reading
You can find out more about how medication can affect your hair by reading our article
Medication That Causes Hair Loss
.
You might also like...