Starting to Wear a Wig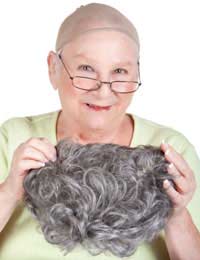 There's lots of good advice out there on how to choose and wear wigs, but what about when you're transitioning to wearing a wig for the first time? Going from having thin hair to having luxurious shiny hair is difficult to do subtly and can be a problem if you'd prefer people to think your hair is your own. Even well meaning people can make comments that hurt. How can you manage this difficult process successfully?
The Basics
Once you've made the difficult step of deciding to
Wear A Wig
, is there any way you can make people think it's your own hair? The obvious place to start is by choosing a wig that closely matches your own hair colour and type. Rather than switching directly to it, making your hair look suddenly much thicker, you can use
Hair Extensions
to gradually build up your own hair first. These won't necessarily be a long-term solution but they can make it look as if your hair is growing back.
An alternative approach is to choose a wig in a different colour or style from your own hair, so that you can give the impression that a new style or a dye job is what is making your hair look so different. This can be very effective but it carries the risk that people will fuss over your new look, making them more likely to notice that it's not natural.
Wigs come in many different types. After the stress of losing your own hair, you may want to wear the thickest, most luxurious wig you can find, but remember that a more modest initial choice is more likely to be accepted as real. You can always try something more glamorous later, once people have got used to you having healthy looking hair.
Absence and Memory
Sometimes people find it easier to deal with losing their hair to cancer in situations where they're spending a lot of time in hospital, away from most of the people they know. When they come back, the chances are that colleagues won't remember exactly what their hair looked like, only its approximate colour and shape. This provides an opportunity to switch to a wig without anyone noticing.
Of course, for most people, going away like this isn't an option. There is a simple alternative – having your hair go away. By wearing a hat or scarf over your hair for a few weeks or months, you can cause people to forget what it looked like underneath. Most workplaces are willing to accommodate this if you explain discreetly why you're doing it. You can use a scalp injury or infection as an excuse if you feel you need one.
Disguises and Distractions
One of the reasons we notice people's hair so much is that it frames the face. By changing other things about the way the face looks, it's possible to draw people's attention away from the wig, effectively disguising it, and make them think that it's something else about you that is making you look different.
Effective distractions in this situation can include glasses, earrings, strong Make-up (such as a bright coloured lipstick) or a striking tie. Remember that a wig can be accessorised much like normal hair, so try wearing hair clips that get people's attention more than the hair itself, or keep the wig partially under a hat until people have had the chance to get used to it.
If people do notice your wig, explain to them quietly why it matters to you to adjust without any fuss – that it's something rather more complicated than just getting a new haircut. Most people will understand and will then avoid drawing attention to it. You'll be amazed by how quickly most people forget about the change and simply accept you as you are, without questioning the way your hair looks.
Real or Synthetic?
Not sure whether you should invest in a human hair wig or a synthetic wig? Before you weigh up your options, read our feature
The Difference Between Real Hair And Synthetic Wigs
.
You might also like...
Due to rapid hair loss I am thinking of getting a wig ,what type would people recommend,thank you
haze
- 22-Feb-19 @ 3:16 PM
I am rapidly losing my hair and am thinking about getting a wig ,what sort would eolee recommend please .
haze
- 22-Feb-19 @ 2:47 PM
Just got my wigs and each and everyone rides up the back. I've been told I've got a high oceptible bone. Told to loosen as much as possible. Even pinned to cap it rides up and pulls the cap down and off. Just had hair cut off a week ago. Can't get it to stay down. Creeps up and bunches at the high spot. Any advice? Different makers, all same.
BAS
- 7-Feb-18 @ 12:40 PM