Hair Volumiser Tips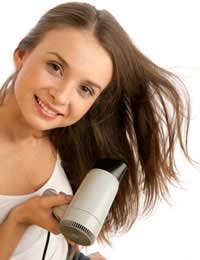 When you have thin hair, it's natural to long for the thick, lush styles you may have enjoyed in the past. Volumising your hair may not quite make your dream come true, but it can help you to make the most of the hair you have, and it can stop your scalp being visible between sparse hairs. There are several different ways to go about it, using chemicals or patches. The good news is that all are relatively easy to do and easy to maintain.
Sprays, Mousses, Gels and Conditioners
There are many different means of chemically treating your hair so as to give it more volume. Whether you choose a spray, a mousse, a gel or a conditioner, they all work roughly the same way. This involves attaching chemicals called humectants to the individual strands of your hair. The humectants, in turn, absorb water from your shower or just from their air around you, bulking up the apparent thickness of those strands.
Despite this, there is quite a bit of variety in product quality, and different people will find different products work best for them. This is because bulking up the hair strands makes them heavier, so can lead to hair looking flat and limp. Products use different tricks to try and work around this. There are also a few tricks you can use yourself.
Applying Hair Volumiser
No matter which of the above product types you use, you should go about applying it in roughly the same way. There are two important things to remember.
Comb – gently separating strands with a wide toothed comb will maximise the volumising effect. Comb out tangles before adding the volumiser. Once you have done so, hold your hair up above your head and comb along the length of it, starting from the root.
Blow dry – using a gentle heat setting, lift your hair as described above and blow upwards from the roots. The volumiser will protect your hair from being damaged by dryness. This will help to shape the hair and counteract any weighing down.
Natural Volumising Treatments
If you don't like the idea of treating your hair with synthetic products, there are lots of natural ones you can use to help boost volume. Probably the most effective is aloe vera gel, which is easily massaged into the hair. This also makes a good base for more elaborate preparations.
Some people find that a small amount of sea salt, added to a volumising mixture or simply to your day to day conditioner, provides a real boost – but be warned, this doesn't agree with everybody's hair. Hemp-based products are a gentler option, as is flaxseed gel, and cocoa powder can help if you brush it through your dry hair.
Volumiser Patches
If volumiser products like those above don't give you the boost you're looking for, or if you simply find them too time-consuming to use regularly, there is another option. Hair volumiser patches can be attached in a salon and will stay looking good for months, with no extra effort on your part.
Hair volumiser patches work by lifting up, and sometimes adding to, your own hair. They're woven against your scalp with your hair sticking out through holes in them, and they can be colour matched to make them invisible. Sometimes these patches use colour-matched additional hair to make your own look thicker, but often all that's needed is for them to lift and shape your own hair.
With a well placed volumiser patch, even thin hair will stand away from the scalp with a natural-looking curve that gives the impression there's much more hair underneath. You can gently brush and wash your hair as normal. It can bring sparse, limp hair back to life and help you to really make the most of your remaining natural assets.
Alternative Option
Those with thin hair may prefer to use a wig to conceal their thinning locks instead. For more advice on this, read our article
Wearing A Wig Over Thin Hair
.
You might also like...