Wearing a Wig Over Thin Hair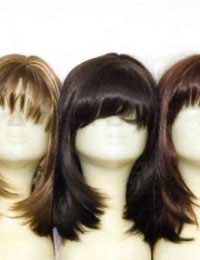 When you're losing your hair gradually you may not want to wait until it's all gone to start wearing a wig. You may also be hesitant to shave off thinning hair when it still feels nice, even if you don't like the way it looks. Wearing a wig over thinning hair can be a practical solution, but it has to be approached carefully if you don't want to damage the hair you have left.
Choosing a Wig for Thinning Hair
Fitting a wig using adhesive when you still have hair on your scalp can be problematic, as it can result in your remaining hair getting pulled out. This limits your options when choosing a wig. It means an off-the-shelf wig will often not be very secure and toupées are generally impractical.
Woven-in Hair Pieces
can help but are a bad idea if your hair is easily pulled loose because they place extra strain on it.
The best way to get a wig that fits securely over thinning hair is to opt for a custom-made or semi-custom one. These are designed to fit the shape as well as the size of your head, so they shouldn't move around and they look much more natural. Importantly, they won't tug at your hair. Remember to choose a style of wig suitable to cover the full length of your natural hair, or fold your hair gently into a hairnet underneath.
In order to protect your scalp, and thus your remaining healthy hair follicles, it's important to choose a wig with good ventilation. A monofilament base is the best choice for this, though it can be expensive. It also helps to give your scalp rest periods during the day – even just a 10-minute break will help to re-oxygenate your scalp.
Caring for the Hair under your Wig
No matter how careful you are with your wig, wearing it will place some extra strain on your remaining hair. It's therefore all the more important to take care of it – but ironically, traditional hair care techniques can actually do damage.
Because the scalp can't breathe as easily under a wig and because hair isn't exposed to the elements as normal, its natural oils will last longer. Too much oil can lead to clogged pores, irritation and sometimes even infection. To tackle this, wash your hair frequently but gently. Baby shampoos, designed for fragile hair, are a good option.
If oil builds up on your scalp, you may not need to use conditioner. Try cutting down by using it only every other time you wash, or even less often. As long as your hair doesn't start to feel dry or crackly, this is the right thing to do.
If your wig doesn't fit perfectly, or if you take it on and off often, the hair underneath can easily become tangled and matted. The best way to avoid this is to brush it gently, using a soft brush, every time you take your wig off and before you put it on again. This will prevent problems building up.
If you choose your wig carefully and look after your hair, wearing a wig over it can actually help it to last longer, so you can look good when you're out and about and still enjoy your natural look when you're at home.
Further Reading
You'll find more interesting articles about wigs and hairpieces in our
Wigs Help And Advice
section of this site.
You might also like...