Follicle Injection to Help Treat Hair Loss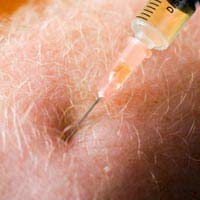 Are you anxious to replace lots hair, but don't want to go through prolonged surgical procedures? Follicle injection is a new cloning-based treatment that may be able to help. Though it's not yet available on the mass market, it's showing a lot of promise, and it could give your hair a whole new lease of life.
What is Follicle Injection?
Follicle injection draws on two older methods of treating hair loss – transplanting hair from other parts of the body, and transplanting hair from other people. The former method is problematic because body hair doesn't always grow properly on the scalp and it rarely looks right. The latter is problematic because the body usually rejects the transplanted tissue, so it's uncomfortable and doesn't remain healthy or functional for long.
Follicle injection uses hair from your own head. This means that it's the right type of hair and your body won't reject it. The downside is that it can only be used on people who have some head hair still growing, though only a small amount is needed.
Cloning Follicles
In preparation for follicle injection, healthy hair follicles are removed from the scalp. Follicles are actually made up of several different types of cell, some of which are easier to clone than others. It is currently impossible to rebuild a whole, functioning hair follicle, but by constructing a sort of framework for one, doctors can trigger an otherwise healthy scalp to do the rest of the work by itself.
The cells that make up this framework can be cultured in a glass dish in a lab, enabling many to be made from a single donor follicle. Stem cells harvested from the scalp can also be cultured to provide the new follicles with the base material they need to grow new hairs.
How is Treatment Provided?
After cells have been cloned, they are ready to be injected. Unfortunately, each new follicle framework needs to be inserted into the scalp separately, as they will remain where they are placed. This means that several hundred injections need to be given to provide reasonable coverage for the average bald area. The good news is that they don't need to go all the way through the skin. The process is similar to
Receiving A Tattoo
.
Because of the number of injections needed, they may be given over repeat sessions rather than all at once. Afterwards the scalp may feel itchy, but it's important not to scratch. An ordinary painkiller like paracetamol should help. The follicles will take a few days to develop fully and will only then start producing hair, so don't worry if you don't experience an immediate change.
Having follicular cells and stem cells harvested once means they can potentially be stored for future use, should you need further treatment. Stored cells, however, are not as likely to grow successfully after transplantation as fresh ones, so unless you are facing chemotherapy or another process that has the potential to kill all your hair, it's better to use fresh ones.
In its early stages, follicle injection is already showing promise. Scientists hope that, over time, they will be able to clone more of the cells that make up the follicle, so that more hairs will grow for each course of treatment. Hair grown successfully after follicle injection should remain healthy for many years to come.
More Hair Loss Treatments
If you are considering other treatments, read our features on
Electric Pulse Treatments
and
Hair Transplants
.
You might also like...
Hi I am interested in having the injections I would like to know where is my nears place to get it done I live in Coventry also I would like to know the price of the treatment. Regards manny
manny
- 12-Jan-16 @ 11:47 PM
Hi I would like to know where I can find a clinic to have some advise about follicle injection I'm very interested to do this as my hair becoming very thin on top I would be great full if you can give me some info via my email address provided. Thank you
setta
- 2-Mar-15 @ 12:32 AM
@Sabz. The prodecure is described above, prices can vary from practioner to practioner and the results also vary. It's probably better to take a look around various forums to see what results have been achieved by individuals. There is also information on the NHS website about what to look out for etc.
HairLossExpert
- 7-Nov-14 @ 11:56 AM
Hi, im 25years of age and i have had thin her most of my life. I have been using extensions now for 5 years which have damaged my hair more, but i have no choice as my hair is very thin. Can i please have some more information about the follicle injection please: proceedure, price,results etc. Thanks
sabz
- 5-Nov-14 @ 10:34 PM
Four years ago I had a hair trnaplant. It dindnt cover my crown area I"m still very thin on top. I"m very interested in the follicle injecton. I live in middlesbrouh In uk.Thankyou in anticipation.
TILY
- 29-Dec-13 @ 4:40 PM
Please send me as much information as possible about this treatment. I would also like to know when the procedure is available to the public. I am 21 and balding. Thank you.
Johnny
- 3-Apr-13 @ 8:06 PM
I would like to know where to find a clinic that do dtis procedure.I leave in the San Francisco area...Thank you.
Franco
- 26-Nov-12 @ 9:30 PM
Follicle Injection -After cells have been cloned, they are ready to be injected. Follicle injection is a new cloning-based treatment. Though it's not yet available on the mass market: - Where in the UK would this treatment be available please?Could I have the address as I would like to know how much this treatment would be. Platelet Rich Plasma - Is this part of the Follicle Injection process, would you know if this is this the blood fluids drawn from the donor? The reason why I am so interested is because my donor hairs are not 'thick' enough for the usual hair transplant treatment - I have looked into this & been told that I wasn't an ideal candidate, which was very distressing for me. I have & am trialing quite a few 'remedies' found through my constant researching.I must add, this is the first time I have come across your website and was hoping that you might be able to help me with this question? Many thanks
Z650Z650
- 8-Nov-12 @ 7:50 PM
please send me detail and contact no about upper describer article for commercial use it
Zaffi
- 26-Oct-12 @ 7:40 AM
I would also like to find out if there is any local clinic here in Los Angeles for injection treatment.I am starting to lose hair,and thining..
Bob
- 13-Oct-12 @ 9:10 PM
I would like information in Seattle about injections for hair loss
Gus
- 11-Oct-12 @ 6:37 PM
i want to try to follicle injection to stop hair fall. Coz i'm losing hair so fast. and i'm afraind that i'm going to be completly bald after 1 year. so please advise me through email about the best procdure tht i could adopt.. Thank You
NAVEED
- 2-Aug-12 @ 1:57 PM