Waking Stem Cells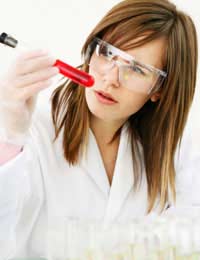 After years of experimenting with how stem cell technology might enable hair regrowth, scientists have made an amazing discovery: losing your hair doesn't mean losing all the stem cells that naturally develop into healthy follicles. Sometimes they are only sleeping, and now the race is on to discover ways of waking them up.
How do Stem Cells Sleep?
Because stem cells are among the body's most important resources, some of them always have to be kept in reserve. This enables the body to regulate when different types of cell are produced. The process is usually controlled by nearby cells of the same type, or closely related types, which send chemical messages that keep the unneeded stem cells slumbering.
On a scalp not affected by Hair Loss, stem cells wake up naturally and turn into new hair follicles when they are needed to replace follicles that have come to the end of their lives. In some hair loss conditions can lead to follicles dying without sending the messages necessary to make this happen. This means that the stem cells remain asleep and no replacement follicles develop, causing baldness.
Research suggests that there are also hair loss conditions in which the stem cells themselves are flawed – effectively, they have lost their alarm clocks, and they are unable to receive wake-up messages from other cells.
Research Aims
The good news is the discovery that in common
Male Pattern Baldness
and in the hair thinning experienced by many ageing women, there is no reduction in the actual number of stem cells in the scalp. This may also be the case in other prolific hair loss conditions. If scientists can work out how to wake up the sleeping stem cells, they will start developing into healthy follicles and previously bald people will be able to grow as much hair as anybody else.
Although it is important to understand that this research is in the early stages and unexpected problems may still be encountered, most researchers are highly optimistic. Some are giving an estimated time of just five years until treatments are developed, though the process of testing that new drugs have to go through in the EU means it may be longer before you can buy them. Any new treatment has to be tested over time to make sure it has no dangerous side effects.
Waking Sleeping Cells
The proposed stem cell waking treatments would work by mimicking the messages usually sent by neighbouring cells. In conditions where stem cells cannot receive these messages properly, it may be possible to chemically alter the stem cells themselves, without removing them from the scalp, to repair their defect. They would then be able to function as normal with no extra help needed.
Because such treatments would, at this stage, be unlikely to fix the signalling problem itself, it would be necessary to keep on applying them every few days or weeks, probably in the form of an ointment. Some researchers are also considering the possibility of modifying shampoos to make things easier. Though it remains to be seen what manufacturers of such products would charge, the cost of producing the treatment is likely to be low.
This is, of course, fantastic news for millions of people affected by hair loss. It is important to keep it in perspective, however. People who have lost their hair due to serious illness, chemotherapy or Radiotherapy may find that their stem cells have also been destroyed and that such treatment is unable to help them. They may still have to be patient and invest their hopes in other areas of research.
Other Treatments
For more information on the alternative hair loss treatments that are available, go to our
Treating Hair Loss
section.
You might also like...