Hair Loss and the Media: How Bald Became Sexy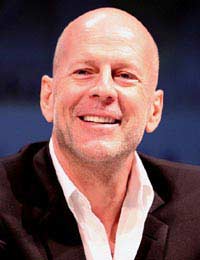 Most people facing hair loss experience some loss of self-esteem and worry that they just won't be perceived as attractive any more. You just have to look at film, television and celebrity magazines, however, to see bald people celebrated as sex symbols. How did this come about, and what does it say about our changing cultural relationship with baldness?
Early Bald Celebrities
Perhaps unsurprisingly, the first celebrities to make an impression with their baldness were all men. In part, this happened by accident. The early film and television industries didn't have all that many stars, and men who achieved mass popularity often became rich, placing them in positions of power where they could continue to demand leading roles. Many hid the encroaching baldness that came with age, but gradually they came to realise that this wasn't necessary.
Despite this, few early celebrities let themselves be seen as completely bald. The men who broke the mould were actor Yul Brynner and singer Isaac Hayes (later the voice of Chef in South Park). Brynner's appearance in a string of popular westerns had given him a cult following and led to fans associating his baldness with tough masculinity. Hayes had a smooth, confident style that made his fans see his baldness as sexy.
Even though few other celebrities followed their lead at the time, these celebrities contributed to a growing notion that bald men are more masculine and more confident, perhaps because they are unafraid to present themselves as they really are. Even today, magazines that celebrate bald stars like Bruce Willis and Samuel L Jackson often mock stars suspected of going bald but hiding it.
Bald TV Icons
Nothing helps to normalise a look like a popular television character. For some years, Telly Savalas was probably the most popular bald man in the world. In 1973, he began starring as Kojak, a tough detective, and attracted millions of fans. Though his baldness was often the subject of jokes, his obvious confidence meant that he ever looked weak as a result, and women were not afraid to speak out about finding him attractive.
A more recent success has been Patrick Stewart, who had a long stage and film career before settling into the role of Captain Picard in Star Trek. His enormous popularity and celebrated sex appeal showed that bald men can also be perceived as sophisticated and intellectual, subtly changing the popular stereotype.
Bald Female Celebrities
Because much more attention is focused on appearance when it comes to female stars, bald female celebrities have had a tougher time being accepted. It has traditionally been difficult for a woman to get work as an actress or singer if she isn't conventionally beautiful, yet in 2010, bald woman Kayla Martell was crowned Miss Delaware in the Miss America pageant, showing that definitions of beauty are changing.
One of the first completely bald female stars to make a big impression was Sinéad O'Connor. Although she doesn't suffer from a hair loss condition, she chose to shave off her hair because she didn't want to be perceived as pretty and have her musical achievements ignored or dismissed as a result. Ironically, the unconventional beauty this gave her really made her stand out and sometimes drew as much praise as her singing.
With singers like Annie Lennox and Grace Jones adopting a buzz-cut style in order to emphasise a masculine toughness, the look gradually spread to other media. Demi Moore gained a whole new set of fans when she shaved off her hair to play soldier heroine G.I. Jane. Sigourney Weaver did likewise when she gave up her hair for her role in Alien Resurrection. Director Jean-Pierre Jeunet spoke of his relief that she still looked good without it.
Other female stars have approached baldness in a very feminine way. It's an increasingly popular look for models like Flaviana Matata, Amber Rose and Diandra Soares. These women have shown that a lack of hair need not be a barrier to a top career on the catwalk. Their fans argue that sometimes it's only when a woman loses her hair that her true beauty can shine through.
Love Your Sexy Scalp!
Learn how to embrace your baldness and show off that sexy scalp in our article
Bald And Proud
.
You might also like...