Hair Loss Types in Different Ethnic Groups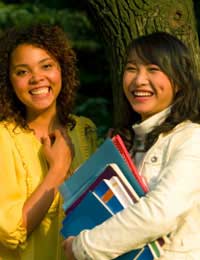 Ever wondered why the hair loss that runs in your family seems different from the sort you usually read about? When it comes to hereditary hair loss, things are very different for different groups of people. Identifying risk factors related to your ethnicity can help you predict what type of hair loss you are most likely to suffer from. It can help you to make good hair care choices that may delay the effects of your hair loss condition.
Hair Types and Ethnicity
In order to understand how hair loss affects ethnic groups differently, it's useful to understand how hair types differ to begin with.
Most people's hair falls into one of four types by geographic origin: European, African, or East or West Asian. Europeans usually have the thickest hair, with the most individual active hair follicles – this applies even with blond hair, where the strands themselves are thinner. People of African origin have fewer active follicles but have thicker individual hairs, so hair can still look voluminous.
Asian hair is the strongest type of hair, and is less prone to breaking damage. West Asian hair usually has thicker strands but East Asian hair, whilst fine, typically has more active follicles, making people with this hair type the most likely to keep their hair well into old age. Both types emerge from follicles at a steep angle, giving the hair more body, which makes it look thicker if kept long but can make short thinning hair look thinner still.
Asian hair is relatively easy to care for. European hair is usually easy to manage in younger people, but it can grow more fragile with naturally occurring changes during the aging process. African hair, despite its thickness, is more fragile, especially when it is very kinky. It requires more care to avoid breaking that can exacerbate inherited hair loss conditions
Male Pattern Baldness
Classic
Male Pattern Baldness
is most common in people of European descent, though contrary to popular belief there is no ethnic group that is completely exempt from this problem. People who derive from the Middle East and the Indian subcontinent are also at significant risk. It is worth noting that because all these groups tend to have a lot of hair to begin with, hair loss when brushing in the early stages of developing baldness can look more extreme than it really is.
Although head shape doesn't directly affect rates of hair loss, having a high forehead, also common in Europeans (especially from the north of the continent) can make male pattern baldness look more dramatic in the early stages. Paler skin can also make thinning hair look worse where the hair itself is dark, and can make the exposed scalp more vulnerable to sun damage.
Razor Bumps
Razor bumps and related hair loss are a problem that primarily affects people of African descent. This is because they are caused by tightly kinked hair growing downwards into the skin. They are often itchy and can lead to scarring, which in turn damages the hair follicles and can cause bald patches to appear on the scalp.
Damage done by razor bumps is difficult to repair, and it can be hard to access treatment if your doctor is unfamiliar with the problem, but treatment is available if you push for it. In the meantime, once you have confirmed that razor bumps are the problem, you can use a topical ointment to stop the itching and thus prevent the damage getting worse.
Hair Loss, Ethnicity and Age
Across a range of conditions, people with European hair are likely to start losing it earlier in life. This is especially the case for men. African hair loss most commonly starts in the late forties or early fifties, and people with Asian hair go bald much later in life, if at all. Asian hair, however, can be weakened by moving to a colder or drier climate.
Cultural Issues and Hair Loss
Genetic Inheritance
is not the only reason why hair loss types vary by ethnic group. Your risk of hair loss can also be influenced by cultural factors like diet and the way you style your hair (or even the way it was styled for you in childhood). If you are in a minority ethnic group in your local area, your doctor may not be aware of these factors, so it's a good idea to do some research when you make an appointment to talk about hair loss.
Often hair loss problems in minority ethnic groups are caused by using inappropriate hair care products designed with different hair types in mind. Hair dyes are a particular problem. Fortunately, most hair care product manufacturers now have websites so you can contact them to ask for advice if you suspect a product of damaging your hair.
Dreadlocks and healthy Hair
Read our feature
Dreadlocks and Hair Loss
for advice and guidance on keeping your style in tip-top condition.
You might also like...