Can You Prevent Male Pattern Baldness?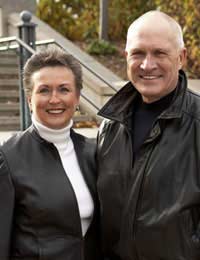 Unlike the normal hair loss and growth cycle, Male Pattern Baldness follows a defined loss pattern, beginning above the temples and over time the hairline recedes to form a typical M shape and the crown thins out near the top of the head. This often leads to partial or complete baldness on top of the scalp, leaving only a horseshoe pattern of hair in more advanced stages of Male Pattern Baldness (MPB).
Women are not immune from pattern baldness, since they also carry the same the genes as men. However, their baldness occurs on their head in the crown area predominately.
You may think that because no male members of your family are bald, that you won't be. However, this isn't necessarily true because MBP duplicates with great inconsistency, it often bypasses generations at a whim.
When reviewing possible treatments for MBP, it is vital to know how far your hair loss has gone, and the widely used Norwood Scale is very useful to help make such an assessment.
Whatever Happens Don't Despair
Early diagnosis by an experienced dermatologist with proper intervention can significantly diminish or terminate the process completely. They will carefully check your medical and hair-care history, together with a visual hair examination.
Prescription Treatments
This type of hair loss can be prevented using any of the Food and Drug Administration (FDA) approved prescription treatments:
Regaine (Minoxidil)
This is applied as a solution twice a day, for a period of at least four months. Clinical trials have shown that hair loss can be reduced by up to 90% and growth may even be promoted by up to 20%! Its mechanism of interaction is unclear, but believed to extend the hair growth phase of the cycle, making the hair larger and leading the hair that rests to undergo growth. This medication works better for men who are either young or new to hair loss.
Finasteride (Propecia)
This is a once a day pill. Clinical trials have shown that about 50% of men who took the drug experienced hair growth and an even greater percentage reported a cessation of hair loss. The medication works by blocking the formation of the hormone DHT and the breakdown of hair follicles.
Non-prescription formulations are ineffective and since 1989 the FDA forbade their sale, so buyers need to beware of all the alternatives out there in the marketplace!
Surgical Treatments
Hair Transplantation
Up to 10 active hairs are taken from the donors scalp and transplanted onto the recipient's bald spot, and there maybe some scarring. These transplants can be for the short term, or indefinitely. The use of artificial hair was outlawed by the FDA because of infection.
Scalp Reduction
It is possible to remove bald spots using Scalp Reduction Surgery. Grafting and flapping techniques are used together with this treatment and it can be successful, depending upon hair loss and how elastic the scalp is.
These treatments can cause scalp infection and scarring.
Cosmetic Treatments
Artificial Hair
A Toupee Or Hairpiece can be customised to hide the bald area, but these can lose their colour and are also subject to stretching. The scalp beneath this artificial hair must be washed and maintained according to a good hair care program.
Hair Products
You should steer clear of products which purport to strengthen and thicken your hair, because this is achieved using oils and waxes which can be detrimental to the hair's growth.
There are a number of successful prescriptive, surgical and cosmetic treatments readily available which are safe and help prevent this common type of hair loss, and some of them even promote hair growth!
You might also like...
Hi, great article on baldness pattern for men and women. I was facing hair fall problem and a couple of my male friends were also suffering from the same thing. We used Parachute Advansed Therapie Hair Vitaliser. This hair solution cured our hair fall in a few weeks. But we also changed our eating habits and lifestyle to include fruits, nuts and vegetables in our diet and went to the gym. It took us a new product and a little determination to get rid of the hair fall.
natashazariwala
- 18-Mar-11 @ 11:02 AM