DNA Tests for Hair Loss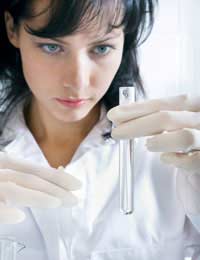 DNA tests are now available to help you determine your chances of suffering from hair loss and, if it happens, how much hair you are likely to lose. But how do these tests work, how accurate are they, and how can you be sure if getting tested is the right thing for you?
Why Take a DNA Test?
DNA testing can be a good idea if you have a
Family History Of Hair Loss
. A good result can set your mind at ease. A result that warns you of likely problems in the future can help you to prepare yourself emotionally. It also means that when your hair starts to thin you'll realise it's a real problem and can go straight to your doctor for help. It's much easier to prevent hair loss than it is to regrow hair that has already been lost.
That said, DNA tests are not right for everybody. Some people find that they enjoy life more if they set aside thoughts of the future and just take each day as it comes. Worrying about impending baldness can stop you enjoying your hair while it's there. Ultimately, though early treatment can help, having early awareness that you're going to lose your hair won't change the eventual outcome.
How Do DNA Hair Loss Tests Work?
Getting a DNA test is easy and painless. You simply attend a clinic, get a small swab taken from the inside of your mouth, then go home and wait for the result. The procedure is not available on the NHS but costs around £80 from private clinics. Some clinics will let you take your own swab and send it in by post. Your GP may be able to help advise you on your options.
At present, only the most common types of hair loss condition are looked for by the DNA test. A lab technician will look at your DNA and identify the status of genes known to be associated with these conditions. Other factors, like your sensitivity to androgens, can tell the technician how severely any particular hair loss condition is likely to affect you.
How Accurate are DNA Tests?
Existing DNA tests are very reliable as far as they go, but it is always possible that you will turn out to have a more unusual hair loss condition not covered by the test. Because the genetic roots of other hair loss conditions have yet to be identified, they can't yet be detected by this method; it is expected, however, that the tests will improve in the future.
Another problem for DNA tests is that they can't take into account environmental factors. We carry the same genes all our lives, but which genes are active can be subject to change. Sometimes exposure to Pollutants, Dietary Changes or taking New Medicines can change the status of our genes. This may mean that a test that was accurate at the time becomes obsolete. The positive side of this is that genetic therapies are in development to render genes for hair loss inactive.
In short, you shouldn't rely on a DNA test to give you absolute, definite answers, but as a measure of probability they work fairly well. If lots of your relatives are bald, wouldn't it be nice to know that, despite some hair thinning, you're unlikely to join them?
You might also like...