Tattooing Your Bald Head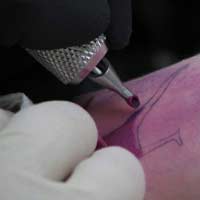 Being bald always means looking a bit different. If you want to embrace that and celebrate your difference, getting your head tattooed can really make you stand out. If you're pale skinned, it can give your head more definition. It always looks individual and gives you back the control over your appearance that you may have felt you were losing when you lost your hair.
Is a Tattoo Right For You?
Whether or not to get a tattoo is a decision that should never be taken hastily or at a time of emotional stress. This means that if you have just lost your hair it may be better for you to take some time to adjust before deciding if it's what you really want. Removing tattoos is difficult and painful and may leave scarring. Unlike a hairstyle, this is something you will have for life.
Getting a tattoo is painful. Nobody wants a half-finished tattoo, especially in such a prominent place, so it's a good idea to make sure you know what you're letting yourself in for. A discreet tattoo somewhere like your ankle or upper arm will let you experience the sensations involved before you decide about getting your head tattooed. It will also give you some practice in tattoo care.
There are some groups of people for whom tattoos are not safe, so you should always talk to your doctor before you get one. If you have Lost Your Hair To Cancer, you may be advised against having tattoos because they represent an infection risk.
Choosing the Right Tattoo
When you choose your tattoo design, it's important to be sure that it's something you'll be happy with for the rest of your life. If you're not sure what you want, your tattooist can show you some designs and may be able to introduce you to people who have had similar work done.
Although tattoos elsewhere on the body now enjoy a lot more social acceptance, tattoos on the scalp are still controversial. Some styles are associated with anti-social groups, so think carefully about the inadvertent messages your design may send. Consider limiting the tattooed area to parts of the scalp that can easily be covered by a Wig, in case you should want to hide it at any point in the future.
A good way to experiment with the experience of having a tattooed head, and to try out the designs that interest you, is to get an initial version done using henna. This will last from three to six months, depending on exposure to water and sunlight. Unfortunately, you can't experiment with different colours with henna.
Tattoo Care
Tattoo care is vital to looking good and staying healthy. It begins with finding the right tattooist. The best way to do this is usually to take recommendations. Internet tattoo forums can be a useful place to get information if you don't know many tattooed people personally. Make sure the tattooist you visit is fully licensed.
Many tattooists will be reluctant to tattoo the head, and may refuse outright to do so if you haven't had another tattoo previously. This is a good sign as it means they are responsible and will treat you with care. Be ready to take their advice and accept any waiting periods they suggest. This is far better than ending up with somebody who will do the job quickly but badly.
Because tattooing injures the skin, a fresh tattoo requires a lot of care. You will usually need to keep it bandaged for several days, treating it with antiseptic ointment at regular intervals. To minimise the stress of a large tattoo, your tattooist may recommend getting it done in several stages. A loose woolly hat is ideal for covering the bandages. Consider getting a U-shaped neck support pillow to keep pressure off your head while you sleep.
Over time, no matter how well you care for it, your tattoo will fade. You may choose to go back and get it recoloured every few years. Nevertheless, it will always look dramatic. It can turn the unlucky accident of going bald into a chosen look that's really you.
Tips For a Bald Head
There are many other ways to make the most of your bald head. Read our articles
Make-up To Help You Look Good Bald
and
Bald And Proud
for inspiration.
You might also like...