Hair Loss Support Groups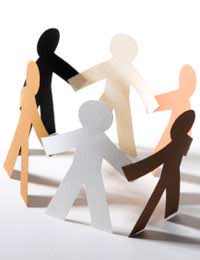 Could joining a support group help you to deal with your hair loss? To some people it sounds like a wishy washy solution to a problem that ought to be solved by science, whilst others prefer not to talk about their hair loss at all. Yet for an increasing number of people, support groups provide an invaluable opportunity to talk about particular hair loss problems with people who really do understand how it feels.
Is it Right for You?
If you're an outgoing person who enjoys meeting new people, a hair loss support group can be appealing simply because it provides new social opportunities. If, on the other hand, you're a naturally shy or private person, or you simply have a very busy schedule to begin with, it might not seem so helpful. How can you then decide if it's worth the effort?
There are two main benefits to a support group: personal support and practical support. If you don't have any close friends or family members in whom you can confide, or if your loved ones don't really get the way you feel about your hair loss, a support group can be more of a relief than you might anticipate. At a practical level, it may help you to find out about new or unusual treatments your doctor has yet to hear about.
Finding a Hair Loss Support Group
There are lots of different hair loss support groups to choose from in Britain, including national ones with local branches and ones that operate only in local areas. Most are specific to particular types of hair loss condition, though you will also find specialist support groups aimed at women and at children.
Using the internet is a quick and easy way to find a support group but can make it difficult to evaluate your options, as you will usually only have the group's own advertising to judge it by. National groups usually provide a better guarantee of quality, but local ones are often very helpful when it comes to practical support, being better informed about activities and treatment centres.
Your doctor is a good person to ask for support group recommendations. You'll also find adverts and leaflets in doctors' surgeries, clinics and hospitals; and hairdressers are often happy to help.
Going Along to a Group
Going along to a group for the first time can be nerve racking, especially if you're not used to talking about your hair loss or have only recently admitted it to yourself. Most groups provide a telephone point of contact. Don't be shy of telling the contact person if you feel unsure about going. You may be able to arrange to meet one or two group members separately first.
Because many people find facing up to hair loss difficult, it's not uncommon for people to pull out of arranged group introductions at the last minute. Established group members will understand this, so if it happens to you it shouldn't make you feel that you can never arrange another visit. A good support group will aim to be supportive even before you attend.
Some people feel awkward about going to support groups because they fear there will be no-one like them, especially if they are young. It is possible that you will find you just can't connect with the people in the first group you try, but in that case they will usually be happy to help you find a group where you are likely to fit in better.
Making the Most of a Group
Sometimes just being in the same room as people who share your problem can give you a boost, but if you really want to make the most of a support group, you'll need to be proactive. Remember that the other members will just be ordinary people like you - it's unlikely they are trained counsellors. If you think it might help you to discuss a particular topic, you should raise it yourself. Ask one or two members separately first if you're not sure what will fit in with the usual way the group works.
Internet Support Groups
If you can't find a suitable support group in your area, or if you want to retain a degree of anonymity, an internet support group may be the thing for you. Internet support groups are particularly good for people with rare hair loss disorders, who are more likely to find practical help there as they can connect with other sufferers who live far away.
Whatever kind of support group you choose, it will remind you that you're not alone. Millions of people live with hair loss and there are communities ready to give you the help you need.
You might also like...