Make-Up to Help You Look Good Bald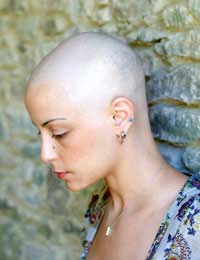 Looking good bald isn't just about how you look after your scalp or how you hold your head. Losing your hair can change your whole appearance. You may find that your old style doesn't suit you any more. This can be disconcerting, as you might not feel like yourself, but developing new approaches to your appearance means you can still be attractive.
Changing the way you wear make-up can help you to make the most of your appearance as a bald person. When your face is no longer framed by hair, different features become prominent. If you learn to flatter them successfully, you can find yourself looking better than ever.
Caring for your Skin
When you're bald, a lot more light will fall on your face, and there will be fewer dark areas (even blond hair creates shadows) to draw the eye. This means that blemishes can really stand out. It's therefore important to care for your skin. You should moisturise daily and use a gentle astringent such as orange flower water to clear the pores on oily patches of skin.
Using foundation when you're bald is usually a bad idea as you'll have difficulty blending it in an even-looking way with no hairline to hide the edges. Instead, take the time to hide blemishes individually with concealer. You can do this very quickly once you're used to it, and it's healthier for your skin anyway.
The most effective way to use concealer is to apply a cream base coat over the blemish and then blend it softly into the skin with powder. Take your time to find tones that work effectively with your skin. To hide redness, blend in a tiny bit of green powder. A hint of yellow powder will help to conceal dark patches effectively.
Dark patches under the eyes can look dramatic when you're bald, and not usually in a good way. The key to getting rid of these is not make-up but proper nutrition. As well as Eating A Healthy Diet you can apply slices of potato or cucumber directly to the affected areas. Even a 15 minute application will enable the skin to absorb useful nutrients directly and will make it look and feel healthier.
Showing Off your Bones
High cheekbones can look very striking on bald people, and even low ones can look good. Where you might have been used to softening your appearance in the past, drawing attention to its angles can really flatter you when you're bald.
The key to emphasising cheekbones isn't blusher on the apples of the cheek, it's subtle lilac to blue tones (bluer for darker skin) underneath, in the hollow where the cheekbone meets the jawbone. Unless you're deliberately aiming for a dramatic look, ordinary blusher should be applied in softer tones when you're bald because of the different way light hits your face.
Another important area to emphasise is the angle of the bones just above and to the outer side of the eye. This flat plane gives a lot of definition to your face and subtly highlighting it with the same shade you use under your cheekbones can make you face look slimmer and more striking, drawing attention down to your eyes.
Flattering your Features
On any face, eyes are the feature we are most drawn to, and when there's no hair to hide or distract from them they have even more of an impact. Since eyes almost always have something beautiful about them, this can be a good thing. What's more, if you take proper advantage of it, it can distract from features you might feel are less flattering.
In the absence of a hairline, the eyebrows become all the more important as a frame for the eyes. This means that it's worth going to more trouble to shape them and make them neat, but you shouldn't pluck them too much. Pale eyebrows should be darkened with an eyebrow pencil in order to balance out the face.
Eyes themselves look better on a bald face if they're bigger. When applying eyeshadow, use a darker shade toward the outer edge of the eye. You may actually want to apply a shade slightly lighter than your skin on the part of the lid nearest your nose. This will have an effect even if the colours you use are quite neutral, but don't be afraid to use strong colours when it comes to mascara, and curl back your eyelashes.
Strong eyes should be balanced by strongly shaped lips. This doesn't mean you need to wear strong coloured lipstick, but you should make sure it's neat and symmetrical. Alternatively, you can outline your lips with a neutral lip pencil.
Style Advice
You can make the most of your bald look by updating your wardrobe, too. For more style advice, read our article
Creating A New Look When You Are Losing Your Hair
.
You might also like...