Bald and Proud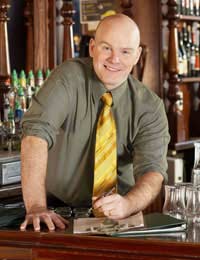 Hair loss is a common condition faced by many men and, although the condition is often genetic (male pattern baldness), many men find that facing the loss of their hair is a struggle. However, with the right attitude and a little self-confidence, baldness can be an attribute that you can embrace and be proud of.
Accepting the Loss of Your Hair
The first step towards becoming 'bald and proud' is accepting the loss. Hair loss, especially loss that is caused by
Male Pattern Baldness
, can begin occurring while some men are still in their 20s. Although it can be hard to say goodbye to a full, shiny head of hair, hair loss does not mean the end of good looks or high self-esteem.
In order to jump-start your new proud attitude towards baldness, you could shave your head and go right to handsomely bald. This new look can actually boost your good looks and the interest from women since no one likes a bad comb over, hairpiece, or obvious trick to boost the appearance of hair. And, with the trend towards sexy male movie stars sporting bald scalps, this look is more popular and more attractive than ever.
Showing off Your Sexy Scalp
Once you have embraced your naturally bare, or clean-shaven scalp, it is time to put a little effort into its appearance. While bald can be beautiful, a smooth, shiny, healthy-looking scalp can be especially sexy.
Keep your scalp in show-off shape by following a three-step routine for perfect skin. Start by shaving your scalp properly. Always use a moisturising shave cream. This will help reduce razor burn, help plump up any hairs that are growing for easier and closer removal, and help hydrate the skin for increased smoothness.
Next, apply an oil-free moisturiser each day, especially after shaving. This will keep the skin of your scalp looking smooth, hydrated and wrinkle free. Finally, follow the routine with a sunscreen, even on cloudy or cold days. This will help prevent sunburn and help eliminate signs of premature ageing, such as fine lines, discolouration and dryness.
Going the Extra Mile for Great Looking Skin
If you really want to boost the sexy look and feel of your bald scalp, you can add a few extra skin care steps to your routine. Exfoliation, a term for the removal of dead skin cells, can be used up to three times a week to help boost the appearance of your skin. This process can reduce dullness, discolouration and fine lines so your scalp looks and feels silky and smooth. To get the most out of this treatment look for an exfoliation cream specially formulated for use on the scalp, or a cream for sensitive skin. Follow the label's directions and start enjoying more radiant skin after just one week.
For a healthy glow that also adds a hint of youth and vigour, you can apply a self-tanning cream to your scalp. The artificial colouring will mimic that of a golden tan without the risk of skin cancer and give your scalp a uniform colour that more naturally blends with the colour of the rest of your skin.
Finally, for the ultimate in 'bald and proud' sexiness, you can shine your scalp for a get-noticed glow. Simply rub a small amount of Noxzema or other skin cleansing cream into your scalp and buff with a soft cloth or brush. For a temporary boost of shine, you can also spray a thin coating of hair spray over your scalp. Although the extra effort may seem over the top, many bald and proud men swear by the shine and its ability to attract the opposite sex.
You might also like...