Coping with Hair Loss for Men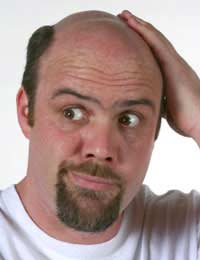 Dealing with hair loss can be very frustrating. The emotional and physical changes can be hard to deal with and accept. However, by learning about hair loss, researching options and treatments, and accepting the facts of your situation, you can learn to cope with the condition and enjoy a full and happy life.
Acceptance First
The first step in dealing with
Hair Loss
is accepting it. Of course, no one wants to lose their hair, but if you are experiencing hair loss or hair thinning, you will be happier once you can accept the situation and move out of denial.
Start by learning about hair loss. Through research you can discover many ways to deal with hair loss and meet with people who have come to terms with their condition and found ways to embrace their new look.
Next, concentrate on ways to improve other areas of your life in order to take your focus away from hair loss. Having a full head of hair does not define you as a person. Work on building your confidence and character so that looks are secondary in self-esteem. Take on a new hobby or learn a new skill to expand your horizons.
Finally, let go of your need or want for hair and work on convincing yourself that there are more important things in life than hair. Be thankful for your health, your family, and the other important things in life. If you are still not convinced, just look at all of the Successful (and Sexy) Male Movie Stars who are triumphantly pulling off the bald scalp look.
Identifying Your Options
After you have accepted your condition and moved past grieving for your lost hair, you can begin to look at treatments for hair loss. Since not all hair loss treatments are guaranteed to work and since some are only temporary, it is imperative that you come to terms with hair loss before seeking treatment.
The easiest option when it comes to coping with hair loss is simply to shave your head. Going totally bald on purpose will relive you from the embarrassment of thinning hair and allow you to control the look of your hairstyle. If you are not quite ready to make the jump to totally bald, however, you do have a few other options.
Hair transplants – this offers a simple way to replace hair loss or fill in thinning hair. This option is permanent, works well to eliminate hair loss, and can help boost self-esteem. However, hair transplant procedures are often expensive and don't work for all individuals.
Hair growing creams and solutions – these commercial hair growth products promise to help you grow new hair after continued use. However, many of these products don't have proven results and of the ones that do only a select few actually help you grow enough hair to make using the product worthwhile.
Hair follicle stimulation procedures – these treatments attempt to stimulate inactive hair follicles in order to produce rejuvenated hair growth. Again, these procedures do not provide the expected results for all individuals and can become quite expensive and time consuming.
Hairpieces and wigs – this provides the look of a full head of hair without the permanent commitment. Plus, the results of putting on a Wig Or Hairpiece are immediate, as opposed to the months it may take to grow new hair. The downside to this option is that most hairpieces or wigs must be removed before bathing, swimming, or participating in some strenuous activities.
Getting Extra Support
No matter how you decide to treat or cover you hair loss, there may come a time when you need a little extra support in coping with your condition. The best place to look for this support is within your family. Talking to your spouse, partner, siblings, or parents about your concerns can help alleviate fear, embarrassment, or worry.
If speaking with a family member or close friend is not as option, which can be the case if they can't understand your feelings towards hair loss, you should seek the comfort of a local hair loss support group. These groups offer tips, suggestions, discussions and support from other men who have faced hair loss and overcome it. To find the support group nearest you check your local phone book or search for hair loss support groups online.
Proud to be Bald?
To help you embrace your hair loss, read our article
Bald and Proud
on this site.
You might also like...
Hi, I too believe that dealing with hair fall for both men and women can be tough and frustrating. A hair solution that works for both men and women is Parachute Advanced Therapie Hair Vitaliser which helps in controlling hair fall. This hair product makes the hair stronger and thicker in a few weeks. Massage it on your scalp atleast thrice a week and leave it on overnight and wash it off with a herbal shampoo. Moreover, drink 8-10 glasses of water, sleep well, exercise and eat right.
Natasha Zariwala
- 24-Mar-11 @ 10:16 AM